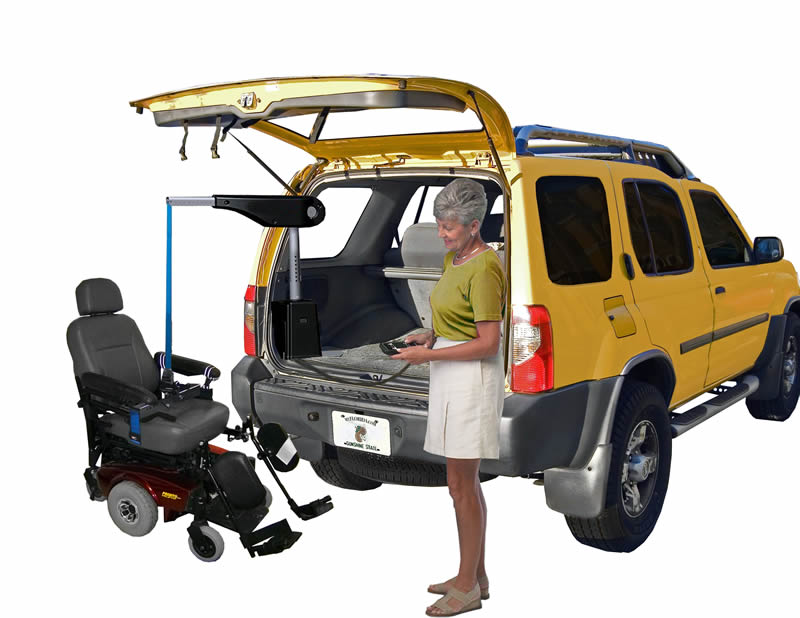 We get many calls asking us about lifting an occupied wheelchair into a van. We do not offer any device that is designed to load an occupied wheelchair. If you are considering a customized van whereby you can load and secure an occupied wheelchair you should consider a lift for specialty vehicles.
If you simply want to transport your wheelchair or scooter in a van there are numerous options available. Choices include electric or manual boom type lifts, and electric platform lifts. Both type lifts can operate from your vehicle battery or a stand alone battery pack. You should explore stand alone battery packs since recent innovations allow you to charge the battery packs at infrequent intervals. Prices are less for boom type lifts with lower lifting weight capacities so matching the size and weight of your mobility vehicle to the lift is a good choice if you plan to keep your present wheelchair or scooter type for an extended time. Platform type lifts have the advantage of securing a wheelchair or scooter automatically. The disadvantage is that they take up more room in the rear of your vehicle.
The first thing to do prior to shopping for a lift is measure the height and width of the opening of your suv or van. Secondly, measure the height of a wheelchair or scooter with the seat folded down, as well as the width in the position it will load. A boom type lift requires a docking device that must be attached and they take extra head room. Platform lifts have no docking device requirements, but typically require approximately four inches of height in suv or van floors. Platform type lifts such as the Ameriglide Extender Plus automatically extend out beyond the bumper, drop down to the pavement, and lift the wheelchair or scooter up and back in the rear of the van.
There are so many variations of size versus fit as a result that we strongly recommend that you call our vehicle lift specialist to verify your choice.
Side load options are available for wheelchairs loading into vans and some SUVs as shown in the Harmar Side Loading Hybrid Platform Lift. These lifts mount easily into the passenger area immediately behind the driver side seat using the 2nd row seating hardware. No custom work or drilling is usually required. Once installed you simply press a button, the lift extends out and down to the pavement, and loads your scooter or wheelchair. Again, we offer an important note. You may not load an occupied mobility device using this option.
Call 1-800-470-8910 Now – Free Help To Find A Lift Perfectly Suited To Your Unique Needs.