Whether you're seeking a mobility solution for inside your home or on the go when you travel, Universal Accessibility has a device that will solve your problem. Browse our selection of vertical wheelchair lifts below. Here you'll also find a brief index of our vehicle lifts and carriers for mobility scooters and electric wheelchairs, as well as stair chair lifts.

Lift Experts Are Waiting For Your Call -
1 (800) 470-8940

1 (800) 470-8940
We can help you choose the lift that is right for you. Lift experts are standing by
8am-9pm EST
.
Vehicle Lifts by Hitch Type
Class One Hitches
can carry up to 200 pounds and are found on small to medium size cars.
Class Two Hitches
can carry up to 350 pounds and are found on large cars and small trucks, SUVs, and vans.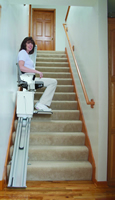 Falls are the most common cause of injuries and deaths among people over age 65. Don't become a statistic. Browse our quality selection of stair liftse.