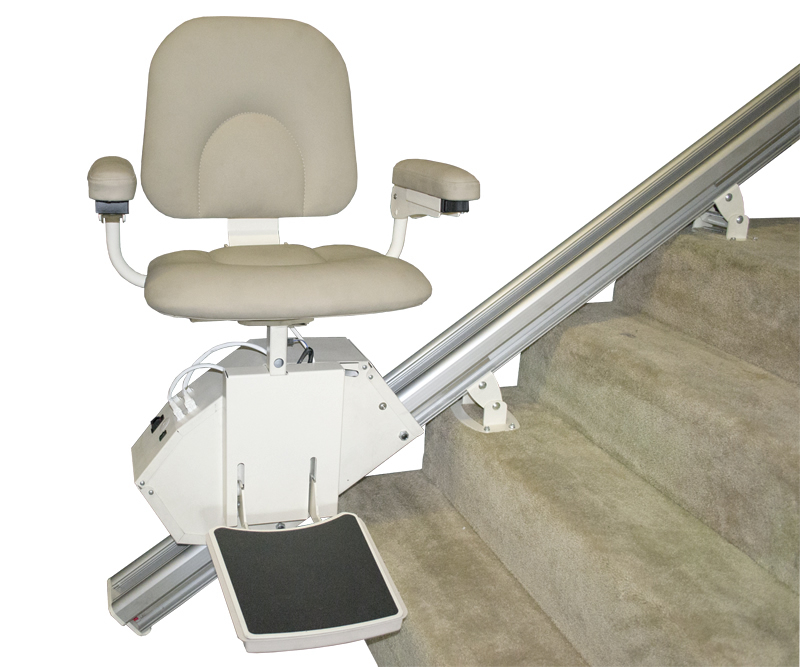 All of the weight from a stair lift chair is pressing down. The most logical place to mount the lift, then, is to the step. The step absorbs the weight as it was designed to do. Adjustable height brackets are used to mount the track to the step, thereby allowing the track to be mounted evenly down the stairs, even if the steps are slightly out of alignment (and they always are). Holes must be drilled into the step; a typical installation requires up to 16 holes addressing four brackets on each side. If you have carpet the screws will go through the carpet. If the carpet is a Berber type the installer should trim the strands as the screws are inserted to prevent pulls.
The track will extend beyond the bottom step to the floor. If the stairway ends in a room or open area, it is possible that the track will create a tripping obstacle. Ask our stair lift experts to explain the merits of a folding track at the bottom. The same thing applies at the top of the stairs as well.
Do you have a door at the immediate top or bottom of the stairs? If so, you must carefully measure the distance between the door and the edge of the landing at the top or last step at the bottom. You need to ask yourself whether you will plan to heat or cool the area below or above the stair lift at all times. If you want to control the heating and cooling you will have to plan to keep the door closed and removing the door will not be desirable.
<<<<<< All You Need To Know About Stair Lifts
<<<<< Stair Lifts Explained
<<<< How Can A Stair Lift Improve My Life
<<< Will a Stair Chair Lift Work on Any Kind of Stairway?
<< Comparing Battery and Electric Stair Lifts
< Standard Features Included With Most Stairlifts