DC Battery-Operated Stair Lifts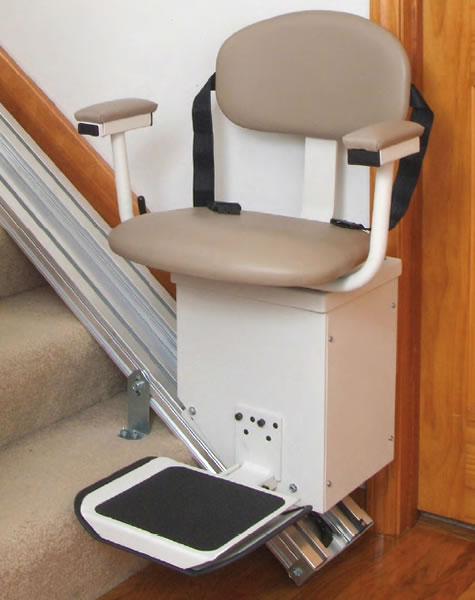 Each stair lift model has clearly defined advantages. The DC battery-operated model has the distinct advantage of being able to continue climbing the stairs (usually for 8 to 10 trips) if the power goes out. Since the occupant is often unable to otherwise negotiate the stairs this advantage becomes doubly important.
The battery model still must have a wall plug to keep the batteries charged, however, and occasionally it may become necessary to replace the battery in the unit. Changing a stair lift battery can be a challenging task, and may be beyond the abilities of the average home user. The seat and housing must be removed, and a number of wires must be disconnected from the old battery and reconnected to the new battery. Because some of these wires usually power the stair lift's safety features, and also because there is such a small access space between the seat and the wiring (usually only about a 2-inch gap), home users should be advised to place a service call to change out batteries in their stair lifts rather than attempting to do it themselves.
Battery-operated DC stair chairs do not run on 110-volt current. You must run an electrical cord from the 110-volt electric outlet in your wall to a voltage converter. The converter/transformer changes the wall current from 110-volt to 12-volt using the same principal as most toy electric trains. This allows 12-volt current to flow to the battery in the stair chair and keep it charged. Transformers can, and often do, burn out. When a transformer goes bad, a DC stair lift will not run, and a service call will be required. The wires that service the battery charging stations inside the stair lift are 12-volt wires. They are very thin and easily damaged. Any time a wire to a DC charging station is damaged, the charger will usually cease to function; the battery goes dead, and a service call is required to track down the bad wire for replacement.
Battery-operated stair lift units are recommended if you live in an area with frequent power outages or other power limitations, but for most home users, an AC-powered lift is perfectly fine. If you decide on a battery unit, plan to have the installer return when you need a new battery. Do not attempt to change the battery yourself.
AC Stair Chairs That Simply Plug In To Your Electrical Outlet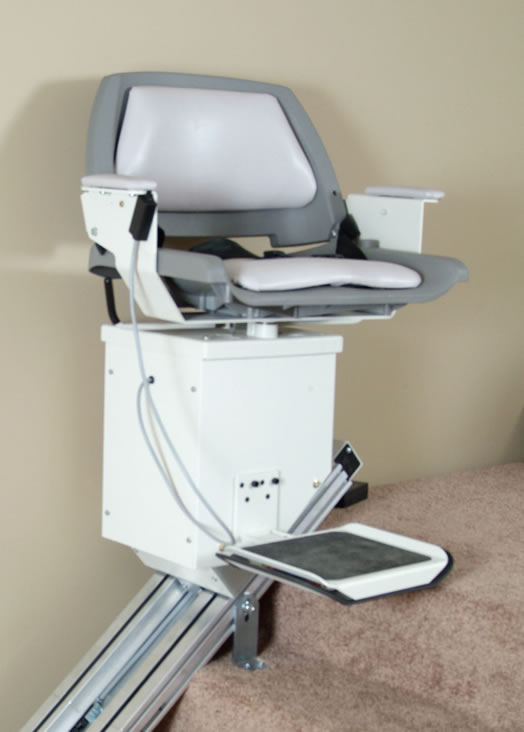 AC-powered stair lifts are less expensive. They cost less to purchase initially, they require no battery replacements, and they are far less prone to service calls. We are frequently asked about the cable that supplies the electricity to the chair. These cables do not reel out and reel in as they are often described. The cable is mounted to the inside edge of the track in most cases, and forms a loop. This looped power supply extends to the halfway point of the track and then curves back toward the top when the stair chair is at rest at the top of the stairs. It simply extends when the chair moves down the stairs. Full power is always applied since there are no batteries to weaken and discharge, and for heavy duty applications that is very important over time. The stair chair assembly does not have to come apart for battery replacement with AC electric models. All of the wiring harnesses in an AC stair lift are significantly more substantial than 12 volt DC wires and more durable, resulting in fewer service calls. We recommend AC electrical powered stair lifts in all but exceptional circumstances.
<<<< All You Need To Know About Stair Lifts
<<< Stair Lifts Explained
<< How Can A Stair Lift Improve My Life
< Will a Stair Chair Lift Work on Any Kind of Stairway?


Standard Features Included With Most Stairlifts >
Preparing For Stairlift Installations >>