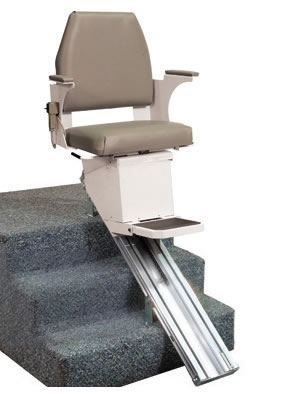 My mother-in-law is now 86 years old. She lives alone by choice, does most of her own daily chores, still gets around well, and makes her own choices about how to spend her time. She has no handicaps and no physical disabilities. Although I watch her enjoy an active, healthy lifestyle, I can't help but be concerned. Too many of her friends and neighbors have horror stories about falling and injuring themselves. It just takes one overly tiring day, one misstep, or one fainting spell to change everything. To avoid such a complication, we bought her a stair lift. We didn't install it out of necessity - we did it to make her life less tiring, reduce the ever-present pain in her joints, and reduce the potential for a mishap. I think we got more benefit from the stair lift than Mom did, alleviating our worries about her comfort and safety. Let's face it, most of us would choose to live in our homes and be self-reliant for as long as possible. A stair lift helps facilitate this desire.
In other situations, though, it is physically impossible for a person to get up the stairs. In these instances, it is clearly advantageous to use a stair chair. Stair chairs are less expensive by far than elevator installations. I once installed a stair chair for a man who was unable to use his body from the waist down. He cleverly deduced that it was far less expensive to have one stair lift and two wheelchairs, one upstairs and one down, than to modify his home for an elevator. He simply swivels the lift in toward the room, slides into the chair, turns it to face the opposite wall, rides down the stairs, turns the chair to face outward at the bottom, and then slides into the second chair he keeps waiting there.
Stair lifts can also be modified to carry packages, laundry, or other objects up or down the stairs. The potential uses go well beyond the obvious one of moving a person. If you have any questions about how to use or modify a stair lift for a personal routine, contact our stair lift experts at 1 (800) 470-8941 for advice.
<< All You Need To Know About Stair Lifts
< Stair Lifts Explained
Will a Stair Chair Lift Work on Any Kind of Stairway >
Comparing Battery and Electric Stair Lifts >>
Standard Features Included With Most Stairlifts >>>
Preparing For Stairlift Installations >>>>